Bali 1998 and 2005- Photos by Sue and Tony
| Home | Contact Us | Bali Trip Report | Photo Albums |
Photo Albums - Bali | China | Thailand | Vietnam | Greenland | Newfoundland and Labrador | Greece and Turkey | Myanmar | Laos & Cambodia | India | Australia | 2007/08 Asia Trip |
Click on the underlined places to enter the gallery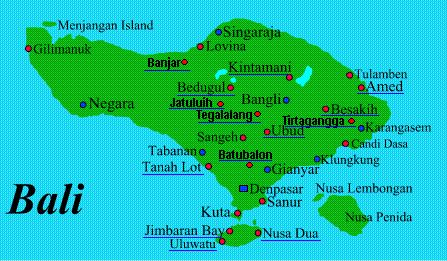 So why Bali? Honestly, it was the scenes of the Kecac Dance so beautifully filmed in the movie Baraka and the beautiful rice terraces, that caught my imagination. The discovery of the Bali Forum on the Internet gave me a wealth of information and before I knew it I was planning this trip. Fortunately my friend Barbara had always wanted to go, so we went and it was fabulous. My first independent trip but not the last. We found the Balinese are used to and welcoming of visitors, transportation and accommodation are plentiful and cheap and it must be one of the safest and most unthreatening of places still left on earth. The people are delightful, hospitable, gracious and have a lovely gentle sense of humour. We particularly enjoyed our exchanges with the boys and young men touting on the streets of Ubud for the chance to drive you somewhere. "Transport Madame? " "No, not today, thank you" "Tomorrow Madam" "No not tomorrow, thank you." "Yesterday?" followed by gales of laughter. Another day the conversation went: "Transport Madame? "No thank you" "Motorbike madam" "No, too old for motorbike" " I have car" "No thank you, don't need a car today" " Helicopter?" more gales of laughter.
As Tony and I were retired and going to Australia in 2005, I took the opportunity of being in the neighbourhood (more or less) to introduce him to Ubud, one of my favourite places in the world. By now we had discovered the delights of digital, no more trying to avoid having our film put though the X ray machines at airports, carrying a variety of ASA and running out at inconvenient times. Now we had as much 'film' as we wanted and no ASA problems. The images are much bigger and better quality too, not being at the mercy of our high street processors followed by low tech home scanning and oh the joys of Photoshop!
On our second trip we also stayed at Oka Wati's in Ubud. When Tony had a fall early on in our trip he was confined to the balcony of our room being wonderfully taken care of by Gede who had looked after Barbara and I so well. Oka Wati came every morning at breakfast time to see how the patient was doing and we were so happy to be with them at a difficult time.
Home | Contact Us | Bali Trip Report | Photo Albums |